Nagao Kanekoma Factory Co., Ltd.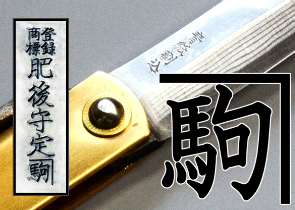 The tradition of producing Higonokami has been handed down over 100 years.
Since 1894, through 5 generations.
Since the founder, Komataro Nagao, started up "Hirata Knife" in Miki, Hyogo Prefecture over 100 years ago, the manufacturing skill of 5 generations of tradition and craftsmanship has developed to make us the only successor of Higonokami.
Higonokami knives made by Nagao Kanekoma Knife are the one and only Higonokami brand.
Trademark: HIGONOKAMI / HIGONOKAMI SADA KANEKOMA


I am the 5th generation president of Nagao Kanekoma Knife that has developed the "Higonokami brand" for more than 100 years since the founder, Komataro Nagao, started to produce knives in 1894.

Young people may not be familiar with this classic knife, but we would be more than happy if a Higonokami becomes your favorite knife as a starting point of "creating things by tools".

We will proudly keep on trying to develop new products while maintaining the tradition.

On this homepage, you will find a history of Higonokami archived by Nagao Kanekoma and an introduction of our product lineup. We will also keep you updated on our new products and our exhibitions.
Mitsuo Nagao, the 5
th
generation president
,facebook,,{"facebookPageUrl":"https://www.facebook.com/%E8%82%A5%E5%BE%8C%E5%AE%88-113897622610558/","boxHeight":"430","boxWidth":"100","dispFace":true,"dispUpdate":true,"dispHeader":true,"wUnit":"%","hUnit":"px"}